Gandabria is a realm of forests and hills on the north shore of the Empire. It abuts the Silver Sound and controls the eastern side of the Magnipont, with the other side in Obuda in Majorosa. The Dodenrike and Menkgu defines its southern border and the Empire has expanded its territory to include the northern end of the Dwarven Safeholds.
Gandabria's northeast border is an active war zone, as the Dwarves resist being pushed further away from their holy city of Sestiturn and closer to their capitol of Tumunzahar. The Empire has spent the last century expanding the Imperial road network to improve the supply situation at Sestiturn and its supporting citadel of Thorvrast.
Gandabria is a land of make lakes and rivers. The Gohun and Kali rivers feed Lake Kalinazar in the northeast, and the Sigin River runs from the lake northwest to the coast, splitting into a delta near Undikera. The Lummena River runs from the west side of the Hadhorond Mountain north the coast.
The Tuin river runs southwest from near Gohun in Menkgu, defining the border, and is joined by the Spoza and eventually joins the Zav at Puttayos. The Zav then defines the Gandabria-Menkgu border until it runs into the Feume River at the Dodenrike border, and the Feume eventually runs to the Silver Sound.
The Coya River runs west from the Mulcutta mountains in the center of the country, and is joined by the Sand River near Sandar and the Duggusa near Nelas. It turns south and meets the Feume as they enter into the Silver Sound.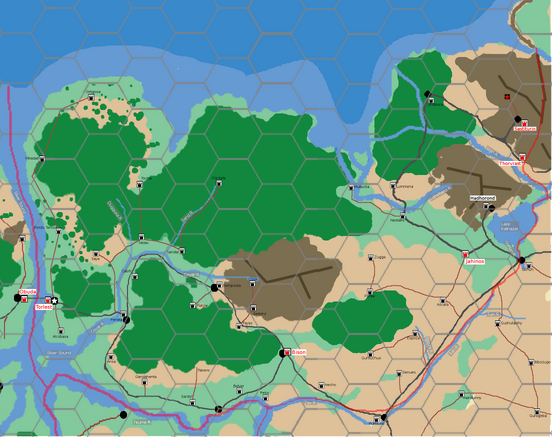 Gandabria has a population of over a million, slightly biased towards the western plains and their great cities. A large number of kobolds live in the formerly Dwarf cities of Sestiturn and Hadhorond, more than half the population of each. Roughly 30,000 Dynfarches and 10,000 Hifnewidew, renegades to the Fae Court but loyal servants of the Dread Emperor, live remote reaches of the northern forests. Nestairs used to be a major port but has declined in size and importance since the completion of the Imperial Highway to Undikera.
| City | Population | Notes | City | Population | Notes |
| --- | --- | --- | --- | --- | --- |
| Torlest | 25,000 | Capitol, Two Legion Citadels | Penela | 17,000 | |
| Undikera | 11000 | Northern port | Belver | 9000 | |
| Bemposta | 6000 | | Bisorn | 5000 | Legion Citadel |
| Sestiturn | 5000 | Dragonkin Legion Citadel | Hadhorond | 5000 | |
There are additional legion citadels at Thorvrast and Jahinos.